About Initiative
Accreditation
Faculty
Workshops
Point of Care
Webcast on Demand

Live webcast
Outcomes
Jointly sponsored by
University of Kentucky
College of Pharmacy
and Vemco MedEd


This activity is supported
by an educational grant from
Janssen Pharmaceuticals, Inc.,
administered by
Janssen Scientific Affairs, LLC


The online tutorial series with a case reinforces practical application of tools and competencies acquired during the live activity. Each tool is a combination of essentials in clinical practice, links to relevant scientific publications, and printable handout material for reference. Clinical Case following the online tutorials gives the learners an opportunity to earn extra CE credit upon completion.


This online clinical case is an opportunity to apply knowledge gained from the tutorials and to earn extra CE credit upon completion.
Target Audience
This continuing pharmacy education activity is planned to meet the needs of pharmacists in a variety of practice settings, including large and small health systems, outpatient clinics, managed-care organizations, long-term care facilities, and academia. This activity would be especially beneficial for pharmacists, clinical specialists, managers, leaders, and educators who are interested in pain management, new drug therapies, and improving the care of patients experiencing moderate to severe pain.
Learning Objectives
After participating in this educational activity, learners should be able to
Utilize pain assessment techniques to accurately evaluate pain and guide management strategies
Select an appropriate analgesic based on patient factors and pain type
Accreditation


The University of Kentucky College of Pharmacy is accredited by the Accreditation Council for Pharmacy Education as a provider of continuing pharmacy education.
This knowledge-based activity has been assigned ACPE 022-999-12-038-H04-P and will award up to 0.5 contact hours (0.05 CEUs) of continuing pharmacy education credit in states that recognize ACPE providers.
Statements of credit will indicate hours and CEUs based on participation and will be issued online at the conclusion of the activity. The College complies with the Accreditation Standards for Continuing Pharmacy Education.

Release Date: Friday, March 16, 2012
Expiration Date: Saturday, March 16, 2013

Disclosure Of Conflicts Of Interest
University of Kentucky and Vemco MedEd require faculty, planners, and others who are in a position to control the content of continuing education activities to disclose to the audience any real or apparent conflict of interest related to the activity. All identified conflicts of interest are reviewed and resolved to ensure fair balance, objectivity, and scientific rigor in all activities. The faculty is further required to disclose discussion of off-label uses in their presentations.

The University of Kentucky is an Equal Opportunity University.
Disclosures
Employees of University of Kentucky and Vemco MedEd have no relevant financial relationships to disclose.

Christopher Dennison, employee of University of Kentucky, has no relevant financial relationships to disclose.

Mark Etscheidt, PhD, content reviewer from University of Kentucky, has no relevant financial relationships to disclose.

Marco Cicero, PhD, employee of Vemco MedEd, has no relevant financial relationships to disclose.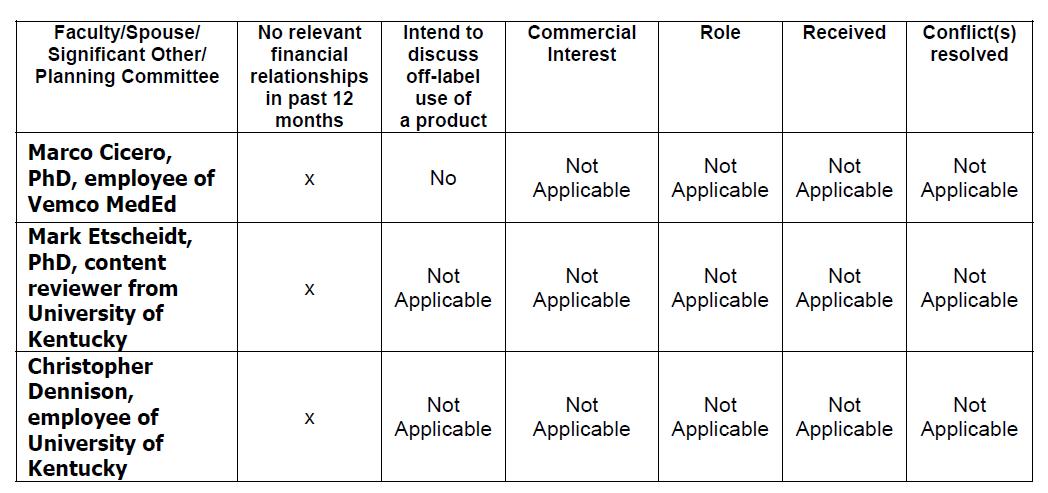 Instructions For Credit
Review the activity in its entirety
Go to www. CECentral.com/getcredit
Enter activity code PEN12301
Login or register for a free account
Complete the Post-Test and Evaluation
Get credit. A printable certificate will be issued.